Happy Sunday everyone! Everyone in my family seems to have caught a horrible cold and we are all just laying around being sick, but the good news is that I have some time to relax and catch up on my blogging!
Some of you may have been wondering what happened to Sunday Style last week. Well...while I was working, my suitcase got lost in San Francisco (I will save that story for another day). Unfortunately, my Macbook charger was in there, so I had no way to get the Sunday Style post ready in time. But, it's back this week and I can't wait to see what outfits you lovely readers link up! Here are the rules:
1. Link up to a specific outfit post, not your main blog page.
2. Grab a button and add it to your post (a text link is also fine).
3. Comment on this post and at least one other post...the whole point is to visit each other!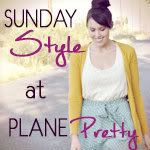 I would also LOVE if you would take a second to vote for me to be one of the Top 25 Fashion and Beauty Mommy Blogs on Circle of Moms! You can vote once a day until the 23rd :)