It's Sunday...do you know what that means? It's Sunday Style time!
Before I get to the link-up, I have something really important to share with you today. I feel like I have been so blessed by the opportunity to be a part of the
Wallis Fashion contest
and I have been overwhelmed by the support from all of you readers, as well as my friends and family. I wanted to come up with a way that I could return the
good karma
. Giveaways are fun, but making a difference is even better! Here is what I decided to do:
If I win the trip to New York Fashion Week, I will be donating 5 cents for every single vote I receive from now until the contest ends (Midnight EST on August 26th) to a very important cause that is close to my heart: Cancer Research.
Growing up, I watched as my Grandma passed away from lung cancer. I had a good friend from high school lose her fight with brain cancer and another close friend go through chemo while battling lymphoma (he is currently cancer-free). Right now my friend's Mom is going through radiation. Cancer affects so many people, it's ridiculous. But it didn't fully hit me until my own Mom was diagnosed with uterine cancer a couple years ago. Luckily she was able to have it surgically removed (and is now cancer-free!), but it made me realize just how much I hate this stupid disease. Sure, there are ways to lower your risk of developing cancer, such as living a healthy lifestyle, but no one is completely exempt from it. Science has come so far in recent years, but there is still so much research to be done.
I hope you will help me fight against Cancer! I will already be making a donation in honor of my Grandma. However, I would like to make that donation even larger! So, if I win this competition, I will also be donating 5 cents for each vote I receive from now until the contest ends. That's $25 if I get 500 votes, $50 if I get 1,000 votes, $100 if I get 2,000 votes, and so on...and remember you can vote once an hour through the 26th! After exploring a lot of options, I decided on donating to the
Stand Up To Cancer
charity. I chose them because 100% of the donations received go straight to cancer research. Also, if anyone would like to make a monetary contribution, just e-mail me and I will add it to the donation. Thank you so much for your support and please know that I appreciate all of you so much!
Ok, now on to the Sunday Style link-up! Last week had over 100 great outfits and I loved looking through all of them. I can't wait to see what you have been wearing lately and next week I will get back to posting some of my favorite looks! As always, here are the rules:


1. Add the link to your specific outfit post, not your main blog page.
2. Grab a button and add it to your post (a text link is also fine). Note: if you don't link back to me, I can't feature you!
3. Comment on this post and someone else's post...the whole point is to visit each other.
4. Follow my blog, so you can be reminded to link up next time!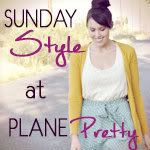 Linking to:
WIWW